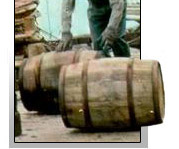 External Links
Crew Lists and Logbooks
The Maritime History Archive has acquired approximately 70% of the original documents which make up the series Agreement and Account of Crew and Official Logbooks for British Empire Vessels, 1863-1938 and 1951-1976. The National Archives in Kew, England, retained a 10% sample for 1863-1938 and 1951-1976 and the National Maritime Museum in Greenwich, England, acquired the years 1861 and 1862, and a decadal sample of all the years ending in five, e.g., 1865, 1875, 1885 etc.
The following county record offices and other repositories in Britain and Ireland acquired a sample of crew agreements, dated 1863-1913, which were of particular interest to their geographical area:
CLIP (Crew List Index Project) has list of 48 record offices holding crew lists. That list can be found at http://www.crewlist.org.uk/data/rocrewlists.html.