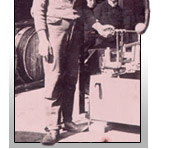 Keith Matthews Name Files, 1500-1850
[textual] 54 metres.
**All files in this collection are now available online. Click on a letter in the alphabet below to find and view the Name Files of surnames included in this collection. Remember to open up the abbreviation guide (link below) to help you interpret the entries in each file.
---
The Keith Matthews Name Files is a collection of data on individuals, families and businesses that were involved in the settlement, fisheries and trade of Newfoundland from earliest settlement to 1850. The files were compiled from a wide variety of English, Irish and Newfoundland records, including parish registers, newspapers, shipping records, customs records, political papers, census records, merchant records, diaries, etc. and include data on 7,300 surnames, arranged by surname and subdivided by given name.
Each file contains all of the information collected by Matthews on a surname. The file consists of numerous separate pieces of information which include the surname and given name, a reference to the source of the information, the date, and a brief summary of the text. The following examples are typical of the type of information contained in the files:

TAVERNER 1754 oct trinity ct Jacob one of his men jac fox abused jn night. Night to get 20/-d of fox wages. JACOB the brother of BEN

Interpretation of Entry: Surname: TAVERNER; Date: October 1754; Source: Trinity Court Records; Notes: Jacob Fox, one of Jacob Taverner's men, abused John Night. The court ordered that Night is to get 20 shillings/no pence of Fox's wages. Jacob Taverner is the brother of Ben Taverner.

BROPHY 1821 dec st jns rc morgan of THE ROYAL OAK married bridget cunningham

Interpretation of Entry: Surname: BROPHY; Date: December 1821; Source: St. John's Roman Catholic Parish Records; Notes: Morgan Brophy of the vessel Royal Oak married Bridget Cunningham.

Click here for our abbreviation guide, which may help you in your interpretations. (N.B. The guide will open in its own browser window.)