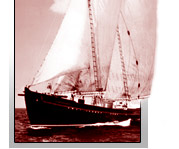 Errata in Birth, Death & Marriages CD
The Maritime History Archive spent several months editing and checking the Births, Deaths & Marriages CD for errors. However, given the size of the database, it is likely that errors still exist. As errors are reported they will be listed below.
To report an error, please e-mail the Maritime History Archive at mha@mun.ca. Include as much of the record that contains the error as possible, the error and suggested correction, the source to verify that the suggested correction is accurate, and a return e-mail address.
Please note that our aim is to be faithful to the contents of 43 nineteenth century newspapers. We have not made any effort to confirm the accuracy of the newspapers themselves.
The following are the known errors in the Births, Deaths & Marriages CD that have so far been reported.
---
List of Errors
Clift, William Wallace — Reference Date 1 should be March 29, 1837, not March 8, 1837. This death was also reported in the Newfoundlander on March 23, 1837.
Times and General Commercial Gazette
"Died, on Wednesday evening last, after a lingering illness, WILLIAM WALLACE, seventh son of James Clift, Esq., of this town, aged 9 1/2 years."

Newfoundlander
"Died, last evening, at 8 o'clock, WILLIAM WALLACE, seventh son of James Clift, Esq., of this town. This sweet and amiable boy fell a victim to a lingering Typhus fever, deeply lamented by his affectionate parents."
Cummings, Honora — Source should be Harbour Grace Standard, not Royal Newfoundland Gazette.
Gill, Eliza Mary — Bride's name is actually Elizabeth Mary and her father's name should be Joseph, not James.
Royal Newfoundland Gazette
"On Wednesday evening last, by the Rev. F.H. Carrington, Mr. James M. Hamilton, one of the firm of Messrs. W.B. Hamilton & Co., Merchants, Halifax, to Elizabeth Mary, eldest daughter of Mr. Joseph Gill, of this town."
Gill, Frances — Son-in-law's name is actually Nicholas, not Richard.
The Newfoundlander
"Yesterday evening, at the residence of her son-in-law, Nicholas Gill, Esq., after a long and painful illness, which she bore with meekness and resignation, Mrs. Frances Gill, relict of the late Michael Gill, Esq., aged 74 years."
Howly, John — Last Name should be Howley, not Howly.
Newfoundland Mercantile Journal
"MARRIED, on Monday the 14th inst by the Right Reverend Doctor Scallon, Mr. John Howley, to Eliza, youngest daughter of the late Mr. Luke Maddock, of this town."
Murphy, Margaret — Margaret Murphy was actually Margaret (Murphy) Keough, wife of Capt. Andrew Keough and daughter of the late James Murphy of Witless Bay.
O'Toole, Terence — One entry for this person is wrong. It is supposed to be for Lenora Vokey. Terrence O'Toole died age 97, 17 August 1887.
Harbor Grace Standard
"At North West Arm, Green Bay, on July 29th, in the 29th year of her age, Lenora Vokey, a native of Conception Bay. She leaves a sorrowing husband, and two children to mourn their loss."
Harbor Grace Standard
"At St. John's on the 17th inst., Terence O'Toole, a native of County Waterford, Ireland, in the 97th year of his age - 67 of which he spent in Newfoundland - RIP."