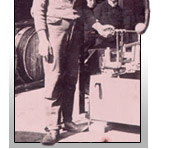 Business Collections
Over sixty businesses and private agencies involved in the Newfoundland fisheries are represented by the mercantile records collection, one of the most important being the archive of the Newfoundland Associated Fish Exporters Limited, (NAFEL), the sole agency for the export and marketing of Newfoundland salt codfish from 1947 to 1970. Shareholders in this single marketing company were Newfoundland's most successful merchants and major exporters of salt codfish, the traditional product of Newfoundland since the 16th century and its staple export. It was still being produced in large quantities during the 1950s and 60s despite declining markets. The collection sheds light on the events leading up to the collapse of this industry in the 1970s, a situation which left Newfoundland facing economic instability and persistent unemployment, particularly in the outports, and contributed to a change away from the traditional economy and way of life for its people. Business records of major Newfoundland merchants include the papers of Ryan Brothers, who operated successfully from the mid 19th to the mid 20th centuries in Trinity and Bonavista Bays. The collection covers the period from the firm's inception in 1857 through to the late 1940s, when it began to move out of the fish business to concentrate exclusively on the retail and wholesale trade. The collection provides researchers with insight into the complexities of the salt cod trade at the community level. These records offer an opportunity to explore the relationship between the merchant and the fishing clients in the production of salt cod and other fish products. Moreover it provides an excellent illustration of the truck system, the principal organization of labour and medium of exchange in the outport economy of 19th and early 20th century Newfoundland. Other large merchant collections include the records of Hodge Brothers, fish merchants of Fogo, who inherited the business established there in the 18th century by Slade's of Poole; A.H. Murray and Company Limited; Baine, Johnston and Co.; Job Brothers; Grieve and Bremner; Robert Newman and Company, and many others, all major fish exporters from the 18th to 20th centuries.
To view the finding aids of some of these business collections, click here.
In Newfoundland most communities were served by one or two merchants, who supplied all the needs of the community and in return, bought the fish, furs, wood and staves and any other commodities that may be used in exchange for goods. Thus every person within the community would appear on the books of the local merchant. Indexes to the ledgers give access to individuals and help establish familial connections.
The Archive also holds microfilm copies of business papers of shipowners and merchants of the Canadian maritime provinces, collected during the life of the Atlantic Canada Shipping Project. Microfilm copies of business papers of 18th century New England fish merchants, some of whom carried on an active trade with Newfoundland, were acquired through a joint microfilming project with the Essex Institute of Massachusetts.