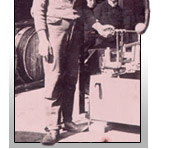 Baine, Johnston & Co. fonds, 1806-1958
3.6 metres of textual records
Administrative history
From the beginning, Baine, Johnston & Co. was a fully functioning fisheries supply and general trade operation, importing goods from abroad and exporting fish to foreign markets. Initially, the firm leased St. John's premises from Robert Newman and Company, possibly on the south side of St. John's Harbour. In 1816 William Johnston purchased the St. John's premises which were previously occupied by Hart, Robinson and Company. Two years later, the firm also acquired "Horton's Plantation", between Baird's Cove and Ayre's Cove which remained the firm's headquarters until 1963. Baine, Johnston & Co. expanded its interests beyond the cod fishery to become a major player in the sealing industry, using a seal processing plant in Harbour Grace as its headquarters. The firm also became agents for Robert Newman & Company in 1894, prior to the 1907 withdrawal of that English West Country firm from Newfoundland. Additionally, the firm exported cod oil, herring, and salmon to foreign markets. From 1832 to 1920 the firm was one of the largest vessel owners in the country.
While local tradition maintains that a Baine presence was in Newfoundland in 1780, there is no documentary evidence to support this. However, Lang, Baine and Company of Greenock, Scotland, with principals Thomas Lang, Walter Baine Jr., Thomas Patten, John Hamilton and Archibald Baine, was involved in the Newfoundland trade by 1806. Two years later, Thomas Patten, the resident partner at St. John's, was joined by Walter Baine Jr., forming Patten, Baine and Company in affiliation with Lang, Baine and Company at Greenock. In 1810 the Johnston name became associated with the firm through William Johnston's appointment as the St. John's agent for Walter Baine and Company, successor to Patten, Baine and Company. As Johnston was the only Newfoundland resident, this may have led to the Newfoundland firm's change of name to Baine, Johnston & Co.
When Johnston died in 1837, Walter Grieve took over the St. John's operation, while his brother James Johnston Grieve was resident partner in Greenock, Scotland. When Walter Baine Jr. died in 1851, Walter and James Johnston Grieve acquired the business. Walter left in 1855 to form Walter Grieve and Company and, by 1861, was a partner in Grieve and Bremner and had purchased the Slade premises at Trinity. Over the next few years the partnership evolved, with members of the Grieve family acquiring greater interest in the firm.
Apart from its St. John's headquarters, the firm maintained premises at Battle Harbour in Labrador, Presque, Harbour Buffett, Port de Grave, Cupids and Bonavista. In 1871 Baine, Johnston & Co. purchased the Slade business at Battle Harbour. Slade's former storekeeper, William Collingwood, stayed on in that capacity and possibly acted as manager or agent with the new owners.
Walter Baine Grieve's death in 1921 marked the end of the Scottish connection with Baine, Johnston and Company. The firm was incorporated in 1922 with Thomas W. Collingwood, William's son, as managing director and major shareholder. In 1939, Collingwood became the president and controlling shareholder of the company. Collingwood maintained and expanded the firm's position in the Labrador cod fishery into the post-confederation era but, in response to the decline in the salt fish business, the company sold its Battle Harbour operation and withdrew from the trade in 1955. In 1963 the redevelopment of the St. John's Harbour front prompted the company to transfer its headquarters from the old Horton's Plantation property to a newer commercial area of the city. Baine, Johnston & Co. remains very active, with interests in commercial property, insurance, and the wholesale and retail trades.
Sources: Baine Johnston & Co. fonds, Estate papers, Maritime History Archive; Matthews, Keith. Profiles of Water Street Merchants. Unpublished Manuscript, Memorial University, 1980; Great Britain. Privy Council. Judicial Committee "Labrador Boundary Documents"; The Evening Telegram, June 20, 1980; Encyclopedia of Newfoundland and Labrador, Volume I. St. John's: Newfoundland Book Publishers Limited, p. 112; Ships and Seafarers of Atlantic Canada, CD ROM. Maritime History Archive, 1998; Registry of Newfoundland Vessels, Maritime History Archive; Mariners and Merchants. A celebration of Baine, Johnston's Bicentennial 1780-1980
Scope and content
Fonds consists of original and photocopied documents for Baine, Johnston & Co.'s operations at Battle Harbour, Labrador and St. John's, 1806-1958. The records for Battle Harbour consists of legal documents relating to property, insurances, wills and estate papers, financial records including ledgers, journals, a private ledger and miscellaneous account books, a list of planters at Battle Harbour in 1871, a list of resident planters in Labrador, 1871 and a family tree of the Grieve family. The records for the St. John's business consist of ledgers, desk diaries, letter books, office accounts, shipping records, correspondence and published material.
Fonds is arranged in three series. Series 1 - Baine, Johnston & Co., Battle Harbour, includes Legal Documents, 1871-1955; Ledgers, 1917-1955; Journals, 1931-1946; Office Accounts, 1871-1956; Shipping Records, 1871-1942; Correspondence, 1871-1958; and Miscellaneous, 1871-1953, such as the Baine, Johnston & Co., Bonavista, Fish Collection Book, 1893-1905 for the Bonavista Branch, maintained by the firm's agent there, John Roper. Series 2 - Baine, Johnston & Co., St. John's includes Legal Documents, 1806-1896; Ledgers, 1946-1947; Diaries, 1908-1923; Letter Books, 1806-1811 and 1893-1927; Office Accounts, 1808-1866; Correspondence, 1814-1866; and Miscellaneous Items, 1806-1818. Series 3 - Miscellaneous Publications, 1831-1839.
Custodial history
The bulk of the Baine Johnston Papers was collected by the Maritime History Archive prior to 1980. The provenance of the original material was not documented. Dr. Matthews supplemented the original material with photocopies of specific documents from other fonds, which had a bearing on the Baine, Johnston & Co. enterprise. The desk diaries were purchased from Mr. H.L. Caines of Long Pond in 1980 and were added to the original collection. In 1993, many of th records for Battle Harbour were deposited with the Archive on loan from the Battle Harbour Historic Trust.
Arrangement
The original filing scheme of the records which comprised the Baine, Johnston, Battle Harbour fonds and the Baine, Johnston, St. John's fonds were reconstructed during the archival arrangement to combine the two fonds into a single fonds. Wherever possible, the original order was maintained, changes that were imposed made it possible to combine the two fonds.
Notes
The supplied title is based on the contents of the fonds
These records are on semi-permanent loan to the Maritime History Archive from The Battle Harbour Historic Trust. (Tom Paddon, project manager).
Copyright is expired on some material. For the remaining items, copyright is held by the creator or his/her hiers.
Maritime History Archive finding aid 9.
Accession number 1993-0007
Location - Bank 56, shelves 2, 3 & 4 (Battle Harbour) and Bank 34, shelf 5 & 6 (St. John's)
Related material can be found in Acreman, William, Statement of Account, Maritime History Archive, MF-0119; Baine, Johnston & Co. fonds, 1806-1958, Maritime History Archive, finding aid 9; Baine Johnston and Co. Ltd., Provincial Archives of Newfoundland and Labrador, MG 4.