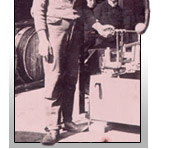 Capt. Tom Goodyear Collection
Capt. Tom Goodyear Collection, 1910; 1939-1971
27 volumes; 15 photographs; 1 painting
Scope and Content / Series and File List
Administrative history
Thomas H. Goodyear, merchant mariner, World War II navy veteran, sea captain and harbour pilot, was born at St. John's March, 17, 1920, the eldest of five children born to Valentine and Jessie Goodyear. He was raised in the east end of St. John's but spent summers as a youth in the mid-1920s with his maternal grandparents, Jonah and Sarah Hallett, on Flat Island, Bonavista Bay, an inshore and Labrador schooner fishing community. It was there he learned the basic rudiments of rowing and sailing boats.
At the age of 13 years Goodyear began working as an office boy during the summer and fall months with St. John's merchant, Thomas Hallett, his mother's cousin. He attended Bishop Feild School during the winter and spring studying bookkeeping, economics, history, mathematics, and other subjects but his real interest was to become a ship's officer. In his teens at night and unknown to his parents he attended a navigation school taught by a Captain John Whalen. In 1936 he went to sea as an ordinary seaman and served on several sailing vessels (schooners) to gain experience needed to become a ship's master. This led to a seafaring career that lasted 40 years.
In September 1938 Goodyear secured a position on the passenger liner SS Fort Amherst of the Furness Withy Line sailing between St. John's and New York. In December 1938 he transferred to the Furness 23,000-ton luxury cruise liner HMS Queen of Bermuda carrying wealthy American tourists to Bermuda and the West Indies. When World War II broke out this vessel was diverted to Belfast and commissioned to become a Royal Navy armed merchant cruiser. Goodyear returned to St. John's in September 1939 on the 6,795-ton liner (British Royal Mail Ship) RMS Nova Scotia, a Furness Withy passenger-cargo vessel, normally plying between St. John's, Halifax, Boston, New York and Liverpool, England. He completed a six-week crash course in Mathematics (algebra and spherical trigonometry) under the tutorship of Mr. Tanner, Headmaster at Bishop Feild College, to improve his navigational skills and in December went back to sea on the Northern Prince, a Furness passenger-cargo ship. In the winter of 1940 he attended a gunnery school in London and later that year signed on as a seaman-gunner on the RMS Nova Scotia, soon to be requisitioned to be a troopship and sent to Egypt with 1,200 allied soldiers. For the next two years Goodyear served on the Nova Scotia carrying South African troops and cargo north from Durban to the Red Sea region and returning south mainly with Italian prisoners taken in the Absyinnia war zone to South Africa via the Indian Ocean.
On November 1942, the H.M.T. Nova Scotia carrying some 1,052 persons (including Allied troops, 766 Italian prisoners, civilian internees, and 114 crew) was torpedoed by German submarine U-177 (Captain Gysae) and sank within minutes resulting in the loss of 858 lives. After spending two frightful days in shark-infested waters, clinging to wreckage, struggling to remain conscious, and jostling with Italian prisoners for a place on a raft, Goodyear was just one of the 14 crewmembers fortunate enough to survive the ordeal. The survivors were rescued by a Portuguese ship and taken to Lourenco Marques in Mozambique. There Thomas took a train to Durban and after recuperating (including regaining his memory) he managed to get back by a troop carrier to Liverpool and thence to St. John's on March 31, 1943.
On arrival home he contacted Jessie Windsor, a girlfriend he had not seen in over two years. In the interim, she had joined the Royal Canadian Air Force, served time in Toronto and Calgary, and was now stationed back in Newfoundland at Torbay. Thomas married Jessie April 1943. They celebrated 67 years of marriage four months before her passing August 18th 2010.
By now Thomas had also completed the four-years apprenticeship necessary to become a ship's officer. He passed the second mate foreign-going certificate exams in May 1943 and was appointed by Furness Withy as 3rd officer of the Fort Amherst the following September. In April 1949 he qualified for his master's certificate. In July he became a chief officer of the Furness passenger-cargo ship Fort Avalon and within the year was appointed master. He was now 30 years old.
With the entry of Newfoundland into Confederation with Canada, and the development of other competitive transportation systems, Goodyear witnessed drastic changes occurring in seafaring and shipping into and out of St. John's Harbour. In 1952 he became a harbour pilot in St. John's and served in that position 23 years. During his last 15 years he worked closely with harbour master Captain Harry Stone who took photographs of all ships entering St. John's including after 1960 those named in this collection. These photographs are deposited with the Maritime History Archive (see below).
Thomas Goodyear retired as a pilot at the age of 55 years in 1975. Among other activities thereafter he attended courses at Memorial University. He died at St. John's on November 21, 2014.
Pilot and master-mariner colleagues contemporary with Capt. Goodyear testify to his active role in keeping and preserving the pilotage records and his scholarly interest in maritime history. (Interviews with Capt. James Kean, Mount Pearl, NL, 21-10-2014; Capt. Michael Furlong, Mount Pearl, NL, 21-10-2014, and Capt. Lewis Marmaduke "Duke" Collins, St. John's, 21-10-2014)
Written by Dr. Gordon Handcock
References:
Blade, Ted, "90 years after the sinking," CBC (On the Go), interview with 92-year old Thomas Goodyear November 28, 2012. http://www.cbc.ca/onthego/episodes/2012/11/28/70-years-after-the-sinking-of-the-rms-nova-scotia/

Collins, Paul, "War at Sea - Newfoundland's Role," Newfoundland and Labrador Heritage Web Site, 2006: http://www.heritage.nf.ca/law/war_at_sea.html

Colombe, Ashley, "The Long Trip Home," Downhome Magazine, see http://www.downhomelife.com/article.php?id=1475

"Goodyear, Jessie H. (nee Windsor)," The Telegram (Obituary), St. John's, August 19, 2010

"HMS Queen of Bermuda," Allied Warships: http://uboat.net/allies/warships/ship/3369.html

Tucker, George, "Captain T.H. Goodyear Biography," Term Paper in History 3110, submitted to Dr. Keith Matthews, December 7, 1976. (Includes two articles by Herb Wells as an appendix) Copy in the Maritime History Archive, Memorial University of Newfoundland, St. John's.

Wells, Herb, "The Sinking of the Nova Scotia," The Evening Telegram (Vets' Column) Part 1, St. John's, November, 20, 1975.

Wells, Herb, "Survivors fought sharks, weather and the enemy," The Evening Telegram (Vets' Column) Part 2, St. John's November, 27, 1975.
Scope and content
The Captain Tom Goodyear Collection contains photographs, pilot books, services books and a painting for the port of St. John's, Newfoundland. The records are arranged and described in four series:

Series 1: Photographs PF-347
15 small photographic prints documenting the rescue of the survivors of the H.M.T. Nova Scotia after having been sunk by Uboat 177, approximately 165 miles north east of Cape Natal, South Africa, on November 29, 1942. Ten photos show Italian prisoners of war who were the vessel's human cargo , in lifeboats about to be rescued by the Portuguese naval vessel NRP Afonso de Albuquerque. Three were taken after the rescue vessel arrived in port Lourenco Marques. There is also a photograph of the vessel taken at another time.

Series 2: Pilot Books, 1939-1969 Bank 22, Shelf 1
(Gaps for April 1944 to December 1946, and for 1968)
The Pilot Books are listings of ships using the Port of St. John's 1939 - 1969 kept by the St. John's Pilotage Authority . Ships are named and catalogued in the order they arrived. Details are supplied for all vessels required to use a harbour pilot to guide them in through the Narrows to an anchorage or berth, change their location inside the harbour, and conduct them back to sea, as well as all vessels obliged to pay a pilotage fee whether or not they made use of a pilot.
The first eight volumes of the Pilot Books include ship listings for specified but variable time periods. Volume 1 covers from 1939 to August1942; Volume 2 runs from September 1942 to March 1944 and Volume 7, May 1954 to January 1955; and Volumes 9 (1957) - to 20 (1969) each cover a calendar year (January-December).

Series 3: Ships Services Books Bank 22, Shelf 1
The seven (7) Ships Services Books 1962-1971 are annual records of charges for pilotage (movages & moorings) including coastal pilotage and miscellaneous expenditures such as taxi fares and allowances for pilots.
The Ships Services Books and Pilot Books (the latter after 1960) were kept during the tenure of Captain Harry Stone. Capt. Stone was harbour master in charge of the St. John's pilots and secretary to the pilotage authority from 1960 to 1979.

Series 4: Paintings OMF-043
Painting, of mixed media, water colour and dry crayon of the steam boat Tommy towing a 6 oared pilot boat outbound in the Narrows, St. John's harbour, with Fort Amherst and Cape Spear lighthouse in the background by J.W. Hayward, 1910.
Custodial history
The photograph collection has been in the possession of Capt. Tom Goodyear since 1942.
The painting hung in the office of the Harbour Master at St. John's when Capt. Harry Stone was the harbour master. It may have come into the possession of Capt. Goodyear along with the pilot books and the ships services books when the office was relocated.
Subject: Tommy (Ship)
Subject: Nova Scotia (Ship)
Subject: Afonso de Albuquerque (Ship)
Subject: Goodyear, Thomas H., Capt., 1920-2014
Subject: Pilots and pilotage
Provenance
The photographs are believed to have been taken by the captain of the NRP Afonso de Albuquerque, the Portuguese naval vessel that rescued the crew of the H.M.T. Nova Scotia, November 29, 1942, about 165 miles northeast of Cape Natal, South Africa. Thomas Goodyear, one of the survivors acquired the photos from the Manager of Vacuum Oil at Lourenco Marques (later Maputo), Mozambique, the port city to which the rescued crew was delivered.

The Pilot Books and the Ships Service Books records were kept by the St. John's Pilotage Authority, which before 1972 was a quasi-autonomous commission or committee working under the harbour master to regulate shipping in St. John's Harbour. Following the passing of the Pilotage Act by the Government of Canada in 1972, the responsibility for pilotage in St. John's was placed under the Atlantic Pilotage Authority (APA), a Crown Corporation, based in Halifax. The 1972 Pilotage Act was based on recommendations from a "Study of the problems of marine pilotage in Canada," known as the Bernier Royal Commission [Queen's Printer, Ottawa, 1968-1971]. Thus the St. John's records in this collection are those extant from an authority which preceded the APA and extended back over a decade before Newfoundland joined Confederation in 1949. These records were in danger of being lost but fortunately were taken into custodial care and thus salvaged by the donor, Capt. Thomas H. Goodyear.

The J.W. Hayward painting hung in the office of the Harbour Master at St. John's when Capt. Harry Stone was the harbour master.
Notes
Copyright on the photographs has expired.
Copyright restrictions apply on the pilot books and the ships services books. The archive provides copies only for the purposes of research and private study. The recipient of the copies is responsible for contacting the copyright holder if the material is to be published.
Copyright on the painting is held by the estate of the artist.
Donated by Tom Goodyear and his daughter, Jennifer Goodyear.
Maritime History Archive finding aid 137
Accession number 2014.002; 2012.021; 1992.016
Location storage bank 22, Shelf 1; PF-347; OMF-43
Associated material can be found in the Capt. Harry Stone Collection
Series 1: Photographs, PF-347
14 photographs documenting the rescue of the survivors from the torpedoed H.M.T. Nova Scotia after it was sunk by German U-Boat 177, approximately 165 miles north east of Cape Natal, South Africa on November 29, 1942. Ten of the photos show Italian prisoners of war in lifeboats and about to be rescued by the Portuguese naval vessel N.R.P. Afonso de Albuquerque. Three were taken after the rescue vessel arrived in Lourenco Marques, Mozambique. There is also a real photo postcard of the Afonso de Albuquerque.

PF-347.001 Survivor from the torpedoed H.M.T. Nova Scotia in the Indian Ocean

PF-347.002 Survivors from torpedoed ship H.M.T. Nova Scotia being rescued by Portuguese naval vessel Afonso de Albuquerque in the Indian Ocean

PF-347.003 Survivors from torpedoed ship H.M.T. Nova Scotia being rescued by Portuguese naval vessel Afonso de Albuquerque in the Indian Ocean

PF-347.004 Italian soldier P.O.W. from torpedoed H.M.T. Nova Scotia Nov. 28, 1942 about to be rescued by Portuguese naval vessel Afonso de Albuquerque in the Indian Ocean

PF-347.005 A survivor from torpedoed H.M.T. Nova Scotia on board Portuguese naval vessel Afonso de Albuquerque somewhere in the Indian Ocean

PF-347.006 Survivor from torpedoed H.M.T. Nova Scotia about to be rescued by Portuguese naval vessel Afonso de Albuquerque in the Indian Ocean

PF-347.007 Survivors from the torpedoed ship H.M.T. Nova Scotia being rescued by the Portuguese naval vessel Afonso de Albuquerque in the Indian Ocean

PF-347.008 Italian P.O.W. survivors from the torpedoed ship H.M.T. Nova Scotia about to be rescued by the Portuguese naval vessel Afonso de Albuquerque in the Indian Ocean

PF-347.009 17 Italian P.O.W. survivors from the torpedoed ship H.M.T. Nova Scotia about to be rescued by the Portuguese naval vessel Afonso de Albuquerque in the Indian Ocean

PF-347.010 Italian P.O.W. survivors from the torpedoed ship H.M.T. Nova Scotia about to be rescued by the Portuguese naval vessel Afonso de Albuquerque in the Indian Ocean

PF-347.011 4 Italian P.O.W. survivors from the torpedoed ship H.M.T. Nova Scotia about to be rescued by the Portuguese naval vessel Afonso de Albuquerque in the Indian Ocean

PF-347.012 Portuguese naval ship N.R.P. Afonso de Albuquerque at sea

PF-347.013 Injured survivor from H.M.T. Nova Scotia being landed at Lourenco Marques, Mozambique, East Africa, now Maputo

PF-347.014 Ambulances on the dock at Lourenco Marques (now Maputo), Mozambique awaiting survivors from H.M.T. Nova Scotia as they are taken from Portuguese rescue ship Afonso de Albuquerque

PF-347.015 Survivors from H.M.T. Nova Scotia being landed at Lourenco Marques (now Maputo), Mozambique from the Portuguese naval ship Afonso de Albuquerque
Series 2: Pilot Books, 1939-1969
Listings of ships using the Port of St. John's 1939-1969 kept by the St. John's Pilotage Authority. Ships are named and catalogued in the order in which they arrived. All ships were required to pay pilotage fees, whether they made use of a pilot or not, with some exceptions. For example, Newfoundland fishing and coasting vessels (mostly schooners), government ships, Canadian National coastal boats (after 1949) and St. John's owned commercial ships under a certain size (generally less than 1000 tons) did not pay pilotage fees. Details are provided on all vessels which were required to use a harbour pilot to guide them through the Narrows to an anchorage or berth, change their location inside the harbour, and conduct them back to sea.

2.01 1939-1942
2.02 Sept. 1942 -April 1944
2.03 January 1947 - November 1947
2.04 September 1948 - June 1949
2.05 October 1950 - September 1951
2.06 January 1953 - May 1954
2.07 May 1954 - January 1955
2.08 January - December 1956
2.09 January - December 1957
2.10 January - December 1958
2.11 January - December 1959
2.12 January - December 1960
2.13 January - December 1961
2.14 January - December 1962
2.15 January - December 1963
2.16 January - December 1964
2.17 January - December 1965
2.18 January - December 1966
2.19 January - December 1967
2.20 January - December 1969
Series 3: Ships Services Books (Pilotage - Movages & Mooring charges including coastal pilotage), 1962-1971
A type of account ledger containing data on ships and piloting activities, 1962-1971.

3.01 January - December 1962
3.02 January 1963 - December 1964
3.03 January - December 1966
3.04 January - December 1967
3.05 January - December 1968
3.06 January - December 1969
3.07 January - December 1971
Series 4: Paintings
OMF-43 Tommy the first steam pilot boat and also Fort Amherst and the Narrows / by J. W. Hayward