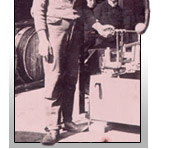 John Munn and Co. (Harbour Grace) fonds, 1770-1918
45 centimetres of textual records
Administrative history
John Munn and Co. was one of the most successful firms in Conception Bay in the 19th century. Established in 1833 as Punton & Munn by Captain William Punton, (d.1845) and John Munn (1807-1879), a native of Port Bannatyne, Scotland, the firm may have been the largest outport firm of its day. Both principals had been in the employ of Baine, Johnston & Co. at St. John's: Punton as a schooner skipper out of Greenock and Munn a bookkeeper at St. John's. They purchased the former Danson premises at Harbour Grace for £515 and became heavily involved in the fishery supply trade, especially with the inshore and Labrador fisheries as well as sealing. The firm also had its own shipyard by 1838.
Punton died in 1845, leaving John Munn as the sole principal of the company. Munn continued with the assistance of his relatives: son William Punton Munn, and nephews Archibald Munn (1814-1877) and Robert Stewart Munn (1829-1894) who arrived from Scotland 1844 and 1851 respectively. The firm flourished and, in 1872, became John Munn and Company with John remaining at the helm but William P. Munn and Robert S. Munn were admitted as partners.
When Thomas Ridley and Sons, a prominent competitor in Conception Bay, was declared insolvent in 1873, John Munn and Co. purchased the firm's Harbour Grace premises and several of the fishing rooms in Labrador. It also assumed the role of supplier for many of Ridley's former clients. By then, John Munn and Co. was unquestionably the largest fisheries supply and general trade firm in outport Newfoundland. They were involved in the cod fisheries, both the inshore fishery and the Labrador fishery, supplying vessels and crews, and marketing the product. The seal industry was equally important in the firm's operations and John Munn was one of the first people in Conception Bay to invest in steam vessels for this purpose. For all the 1870s and 1880s he was the leading supplier of sealing vessels in Conception Bay. He also invested in a number of complementary industries, using fish by-products and by the end of the 19th century the firm had become the major producer of cod liver oil.
The firm and its predecessor, Punton & Munn, owned approximately 250 vessels, or approximately four percent of the entire Newfoundland mercantile fleet from 1840-1889, more than any other outport business. Two of these vessels - Vanguard and Commodore - were steamers purchased to engage in the seal fishery which helped the firm to compete with the Water Street mercantile houses of St. John's that had begun to dominate the sealing industry after 1860 through the use of steam vessels. In 1873, John Munn (or John Munn and Co.) also acquired the Harbour Grace Standard, the well known and enduring local newspaper, with Archibald Munn as the publisher.
John Munn married Naomi Munden of Brigus in 1838 and had three daughters, Isabella, Elizabeth Naomi and Susannah, and one son, William Punton Munn. He was elected to the Newfoundland House of Assembly as the member for Conception Bay in 1842, as a conservative retaining his seat until 1848. Prior to the granting of responsible government, in 1855, he was appointed to the legislative council. He represented Harbour Grace in 1869, and stood in opposition to Charles Fox Bennett, holding his seat until 1873, when he retired from politics. He was for many years the director of the Mutual Marine Insurance Club of Conception Bay. In 1838 he was commissioner for roads in Harbour Grace and Spaniard's Bay. In 1842 he was chairman of the proposed Conception Bay Steam Packet Company. He was a strict follower and member of the Presbyterian Church, and took an active part in everything pertaining to the general welfare of Newfoundland. He was made a justice of the peace for Harbour Grace in 1843. John Munn retired to England in 1878, and died September 28, 1879 at Southport, Lancashire near Liverpool.
In 1882, William P. Munn died leaving Robert Munn, who had been manager of the Harbour Grace premises by 1862, as the sole principal of the firm. The firm encountered financial difficulties during the 1890s, culminating in the Bank Crash of 1894. Robert Munn had been a director of the Union Bank, as was John Munn before him, and the firm had financed much of its operation through that institution. The collapse of the Union Bank plunged the firm into bankruptcy. It did not recover.
Sources: John Munn and Co. (Harbour Grace) fonds, 1770-1918, Maritime History Archive; Registry of Newfoundland Vessels, Maritime History Archive; Ships and Seafarers of Atlantic Canada, CD ROM, Maritime History Archive, 1998; Dictionary of Canadian Biography, Vol. X, p. 538; Encyclopedia of Newfoundland and Labrador, Vol III. St. John's: Newfoundland Book Publishers Limited, p. 650; Eric Sager, The Merchants of Water Street and Capital Investment in the Newfoundland Traditional Economy," in The Enterprising Canadians (St. John's, Maritime History Group, Memorial University of Newfoundland, 1979); Suzanne Ellison, Historical Directory of Newfoundland Newspapers 1806-1996 St. John's: Queen Elizabeth II Library, Memorial University of Newfoundland, 1997; Regular, Donald K., The Commercial History of Munn and Company, Harbour Grace, Student Research Paper, Maritime History Archive, 103-D-5-6
Scope and content
This fonds consists of photocopies of a collection of separate items which were kept at the premises of John Munn and Co. in Harbour Grace. It includes seal landing books, 1849-1895, Harbour Grace Customs records, 1770-1918, and minutes of the Conception Bay Mutual Marine Insurance Club, 1850-1887.
Custodial history
The originals of these documents were in the possession of Mr. Mack Lee of Harbour Grace. They are believed to have been found in the Customs House at Harbour Grace.
Notes
Supplied title based on the contents of the fonds.
Copyright is held by the Conception Bay Museum.
Maritime History Archive finding aid 75
Location Row 95, 23 and 23A
Related material can be found in Charter parties and miscellaneous documents on the Newfoundland fish trade, 1887-1914, Maritime History Archive, MF-0152; Munn and Company Ltd., Provincial Archives of Newfoundland and Labrador, MG 503; Munn, Robert S., 1829-1894, Letter, 1894, Centre for Newfoundland Studies Archives, MF-121.
List of files
1.00 Mutual Marine Insurance Club of Conception Bay
Note: The originals of these records were bound in two large volumes, For ease of handling we have split the copies into folders as follows.
1.01 Rules and list of shareholders, 1850-1856
1.02 1862
1.03 1863
1.04 1864
1.05 1866
1.06 1867
1.07 1868
1.08 1869
1.09 1870
1.10 1871
1.11 1872
1.12 1873
1.13 1874
1.14 1875
1.15 1876
1.16 List of vessels insured, 1878 and 1887
2.00 Seal landing books
Note: The original records are contained in two volumes. The copies have been divided into files for ease of handling.
2.01 Seals landed by vessel, 1849
2.02 1850-1851
2.03 1852-1853
2.04 1858
2.05 1867
2.06 1868
2.07 1869
2.08 1870
2.09 1876
2.10 1877
2.11 1878
2.12 1879
2.13 1880-1881
2.14 1882-1884
2.15 Seals landed by vessel 1885-1887
2.16 1888-1889
2.17 Abstract of seals landed 1880-1888
2.18 1890-1895
3.00 Harbour Grace Customs Records
3.01 Transcripts of "an old Customs Book for Harbour Grace" copied in 1940 with notes, and further annotations made by Mack Lee. Gives vessels clearing outwards from Conception Bay from 1770-1794, giving date cleared, vessel name, master, tonnage, rig, where built and registered, owner name, cargo, number of passengers, destination.
3.02 Goods imported into Harbour Grace, 1840-1852. Coastal shipping and shipping cleared outwards, 1869-1877.
3.04 as above, 1878-1889
3.05 as above, 1890-1918
4.00 Miscellaneous
4.01 Vessels leaving for the seal fishery, 1845, 1851