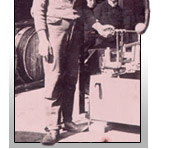 Researching Crew Agreements and Official Logbooks
Crew agreements (known more commonly as crew lists) and official logbooks from mercantile vessels provide fascinating insight into the working lives of seafarers and the vessels on which they served. The MHA's collection - Agreement and Account of Crew and Official Logbooks for British Empire Vessels, 1857-1942 (predominantly 1863-1938), and 1951-1976 - was created and held by the Registrar General of Shipping and Seamen in Great Britain.
Since 1971 the Maritime History Archive has acquired approximately 70% of the original documents which make up this series. Official logbooks accompany many of the crew agreements up to 1874, but relatively few exist for subsequent years, the bulk having been removed or destroyed. Nonetheless, the collection consists of over 1.5 million, multi-page documents in approximately 50,000 boxes. It may be world's largest surviving collection of labour records.
There are crew agreements for passenger, cargo and fishing vessels registered in British Empire jurisdictions, including Newfoundland, Canada, Australia, New Zealand, India, Hong Kong, the Caribbean, the British Isles, among others. Maintained by the Captain and his officers, the documents provide information on the vessel, its voyage, and on individual crew members with their signatures attached. They also record births, deaths and marriages of crew and passengers that occurred during the voyage. The "Certificates" at the back of each agreement contain "endorsements" signed by the British Consul resident at each major port of call. The Certificates can be especially helpful in tracking the route of a voyage, which is often not revealed elsewhere in the document. The official logbooks contain information on medical and disciplinary matters.
The minimum cost to order a copy of a crew agreement or an official logbook is $65.00 CAD, based on the following fees. (Note: Canadian residents must also pay the 15% HST.)
$50.00 minimum Retrieval & Processing fee for two years of crew agreements for one vessel (or 2 vessels for 1 year)
$20.00 Retrieval & Processing fee per vessel/year thereafter
$15.00 minimum scanning fee
$2.50 per scan for 11" x 17" documents (more than 6 scans)
$5.00 per page for broad format documents, larger than 11" x 17" (more than 3 scans)
Placing an Order
To place an order for copies of crew agreements, please send the following information to the Maritime History Archive's Research Desk at mhares@mun.ca.
Vessel Name
Official Number (if known)
Years to be copied (Crew agreements are filed by the year in which the voyage terminated in a British port)
Indicate if you wish to receive a copy of the entire agreement or just the pages pertaining to the individual and their voyage (typically 4-6 pages)
Please include your name and full mailing address.
Once we receive your order, we will provide you with an estimate for the cost of the search and scans.
Please note:
Crew agreements are filed by the year in which a voyage terminated. They are arranged chronologically and filed within each year by the official number of the vessel.
The agreements are not indexed by seafarers' names. The only way to search for an individual is to know the name (or official number) of their vessel(s).
When joining a vessel, crew members were required to declare the name of the previous ship on which they had served. It is therefore sometimes possible to use this information to track a crew member back through the records, one ship at a time.
Crew agreements average from 6-12 pages per voyage, and there may be more than one voyage per year. Crew agreements for passenger liners tend to have larger documents due to the high number of crew members they carried.
Official logbooks typically have 6-20 pages, depending on the duration of the voyage and the frequency with which the Captain made entries in the document.
All digital copies are high resolution scans in jpg files.
Portions of the collection are available elsewhere. The National Archives, Kew, has retained all surviving documents prior to 1861, and for 1939-1950, as well as a 10 percent sample in the 1861-1938 and 1951-1976 periods. All surviving documents for 1861-1862 and for years ending in '5' (e.g. 1925) are held at the National Maritime Museum, Greenwich. Many British county record offices also have crew agreements for vessels that were registered in nearby ports. Documents can also be found in Australia, India, in Government of Canada repositories, and likely elsewhere.
Updated April, 2022