Pollux - Truxtun Timeline
1920 - 1929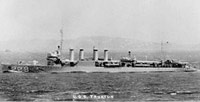 September 28, 1920 - USS Truxtun (DD-229), a Clemson-class destroyer, was launched from the shipyard of William Cramp and Sons
February 16, 1921 - USS Truxtun was commissioned at the Philadelphia Navy Yard.
1923 - Lanier Phillips born in Lithonia, Georgia
1929 - Ku Klux Klan burned down only school for black children in Lithonia
1939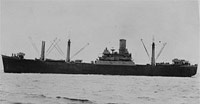 May 26, 1939 - S.S. Comet
November 1, 1939 - USS Wilkes laid down at the Boston Navy Yard
December 16, 1939 - S.S. Comet launched from the launched from the Federal Shipbuilding and Dry Dock Co, Hoboken, New Jersey
1940 - 1941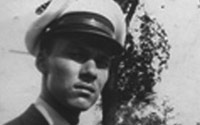 May 31, 1940 - USS Wilkes (DD-441), a Gleaves-class destroyer, was launched at the Boston Navy Yard
1941 - Lanier Phillips joined the U.S. Navy
January 16, 1941 - U.S. Navy acquired S.S. Comet
April 22, 1941 - USS Wilkes commissioned with Lieutenant Commander J.D. Kelsey in command
May 1941 - February 1942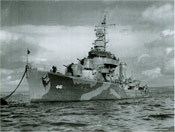 May 6, 1941 - U.S. Navy converted the Comet into a general stores ship and - after a retrofit by the Brewers Shipbuilding and Drydock Co., Hoboken, New Jersey - commissioned it as USS Pollux (AKS-2) with Commander Hugh W. Turney as Captain
February 12, 1942 - Wilkes received orders to depart Boston for Casco Bay, Maine to join the Pollux and Truxtun for Argentia.
February 18, 1942: 4:00 A.M. - 4:17 A.M.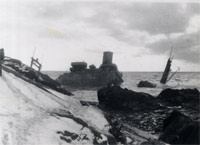 February 18, 1942 - 4:09 A.M. - Wilkes ran aground at Lawn Head
February 18, 1942 - 4:10 A.M. - Truxtun ran aground in Chambers Cove
February 18, 1942 - 4:17 A.M. - Pollux ran aground at Lawn Point
February 18, 1942: 6:30 A.M.- 9:00 A.M.
William Otis Harris jumped from the Truxtun in a fatal attempt to reach shore. Others followed but all were instantly lost in the oil-laden heavy seas.
Harry Egner and James Fex were the first to make their way to shore in a life raft. They established a life line back to the vessel. Lanier Phillips followed and later helped Egner up over the cliff face.
Chief Fire Controlman Edward P. Petterson and Edward L. Bergeron scaled the icy cliff and sought refuge in a shed next to a garden. The 18-year old Bergeron went to look for help.
Ensign Frederick Ardel Loughridge nearly drowned but was rescued by a shoeless Harry Egner.
February 18, 1942: 7:10 A.M.- 7:30 A.M.
Wilkes managed to back off the ledge and limped out of Lawn Bay, about 1000 metres from Pollux.
Two youths from Webber's Point told Joseph Manning of Lawn they saw a ship ashore in Lawn Point. He was skeptical.
February 18, 1942: 7:30 A.M.- 9:00 A.M.
Raging winds and heavy seas flooded with oil thwarted attempts by the crew of the Pollux to launch a life raft and get it ashore. Three crew members attempted to reach shore in a raft with lifelines to the ship attached to their life jackets. Their attempt failed and they were hauled back on board the vessel.
A second attempt to reach shore was made by Ensign Al Pollack and Lieutenant James Boundy. Their life raft crashed against the ship and they were flung overboard, they could not swim against the sludge and the undertow, but made it back to the ship.
The crew managed to establish a line to shore by throwing a hook and catching it in a crevice of the cliff. Two attempts were made by Quartermaster 3rd Class Henry (Hank) Strauss to reach the ledge and establish a better line, but he was unsuccessful.
February 18, 1942: 9:00 A.M.
Pollux crew members Jack Garnaus, Garrett Lloyd, Wag Greenfield, William DaRosa and Larry Calemmo were the first to reach shore in a whaleboat.
March 25, 1942 - Pollux and Truxtun struck from U.S. Naval Vessel Register
1946 - 1957
March 4, 1946 - Wilkes taken out of commission but held in reserve
1957 - Lanier Phillips became the first African American Sonar Technician in the U.S. Navy
1968 - 2008
September 16, 1968 - Wilkes struck from U.S. Naval Vessel Register
June 29, 1972 - Wilkes sold to Southern Scrap Material, Co., Ltd., New Orleans
May 30, 2008 - Lanier Phillips received Honorary Doctor of Laws Degree from Memorial University