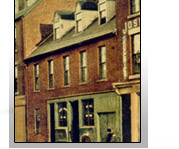 Researching ships and seafarers
Memorial University of Newfoundland is one of the world's foremost centres for the study of maritime history. Located at the easternmost tip of North America in St. John's, Newfoundland, with a second campus on the Gulf of St. Lawrence at Corner Brook, the university services an island society with a deep and ongoing interest in the sea. Inspired by the practical affairs of the maritime world about them, the interests of their student consitituency, and the support of an international community of maritime scholars, the faculty of Memorial University have developed programs of teaching, research, publication and archives management that together constitute an ambitious and integrated approach to the study of the North Atlantic's maritime past. Merchant shipping, fishing, whaling, sealing, transoceanic migration, and the structure of maritime communities, are among the subjects of study at Memorial.
The Maritime Studies Research Unit co-ordinates research and teaching in maritime history at Memorial. Composed of faculty and graduate students in several disciplines, the MSRU organizes seminars, teaches the Department of History programs in the maritime field and provides members with practical research support.
For further information on the the Maritime Studies Research Unit, you can contact Dr. Kurt Korneski, chair of the group at kkornesk@mun.ca