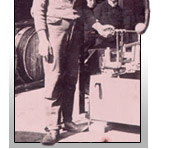 Researching Genealogy and Family History
A major focus of the Archive's holdings are records relating to the fishery, trade and settlement of Newfoundland. Some of these records are of particular interest to people researching Newfoundland families.
Below are listed some of the record series which can be used in researching genealogy and family history. Access to the information contained in the records varies with each series. Information on how the records can be searched is included with the description of the record series. Most of the information contained in these records is not available on line. We have specified where there are name indexes to the records.
---



Keith Matthews Name Files, 1500-1850 [textual] 54 metres.
A collection of data on individuals, families and businesses that were involved in the settlement, fisheries and trade of Newfoundland from earliest settlement to 1850. The files were compiled from a wide variety of English, Irish and Newfoundland records, including parish registers, newspapers, shipping records, customs records, political papers, census records, merchant records, diaries, etc. and include data on 7,300 surnames, arranged by surname and subdivided by given name. For more information about this collection and a list of surnames included, click here.

Student Papers
Collections of over 5,000 research papers completed by graduate and undergraduate students in the course of their studies in Newfoundland history, geography, fisheries geography, and Newfoundland and Labrador culture. The majority of the papers are on community and family histories. Other subjects include education, health, law, merchants, politics, religion, and the fishery. Many of the community studies include information on early settlers and businesses. The papers are listed by title and author and can be searched for genealogical information by geographical area or community and/or family name. Student papers can be scanned for $10.00 each.

Strait of Belle Isle population data collection, 1848-1972
Collection consists of research data for Patricia Thornton's doctoral thesis, entitled Dynamic Equilibrium: Settlement, Population and Ecology in the Strait of Belle Isle, Newfoundland, 1840-1940 (University of Aberdeen, 1979). Collection includes 13 boxes of index cards, recording information on residents of 48 communities on each shore of the Strait of Belle Isle from 1848 until 1972. Boxes 1-11 contains the cards recording birth, marriage and deaths, arranged mostly in alphabetical order. Boxes 12 and 13 contain marriage recall cards, which allow linkage between family groups, and additional data sheets.

Gert Crosbie fonds, 1973-1980
Fonds consists of material collected, created and used by Mrs. Crosbie in her study of the Manuel family (her husband's mother's family) of Exploits and Burnt Island, Notre Dame Bay, Newfoundland. It includes research notes and material on the families of Exploits (including family trees), cemetery inscriptions, photographs, correspondence, research note books, and research material on the Crosbie family.

Jessie Shaw fonds, 1750-1891
Handwritten and typed transcriptions and notes made from the Vital Statistics registers and parish registers in the collections of the Provincial Archives of Newfoundland and Labrador. The material is stored in binders and is arranged alphabetically by family name.

Marjorie Ragosta fonds, ca. 1200 -
The fonds contains the results of Marjorie Ragosta's research on her mother's family which now makes up the family tree of Ella May Freeman, daughter of James Freeman and Olivia Noseworthy of Salmon Cove (now Champneys West), Newfoundland. The material is divided into 2 series. Series one contains files on 85 different surnames connected to her mother's family. Each file is arranged chronologically. Series two contains a complete list of the surnames in the fonds, a codebook listing all the abbreviations in the fonds, a CD containing all of the files in the fonds, a CD containing family stories, a photograph and a book about the Reeks family and 10 diskettes (backup of the family files). For a complete list of family names found in this collection, see the catalogue entry.

Census of Immigrants, 1921-1938
Information collected by Mel Baker for a research project on all immigrants entering Newfoundland as listed in the 1921 and 1935 nominal census. The data are organized by country of origin and arranged by surname. Data includes age, date of birth, marital status, occupation and religion. Countries of origin include China, Russia, Poland, Lebanon, Syria, Sweden, Spain, Norway, France (and St. Pierre), Holland, Costa Rica, Turks Island, Denmark, Germany, Portugal, Italy, Greece, and Latvia. For a list of surnames found in this collection, see the catalogue entry.

Newfoundland Census Records Collection, 1676-1911
An artificially accumulated collection of photocopies of census returns for Newfoundland consisting of an account of the ships that have made fishing voyages, 1676; a list of ships with their landings, 1698; a list of inhabitants, 1708; transcript of the St. John's census, 1794-1795, from the Colonial Secretary's records; the returns for Trinity district, 1800-1801; and census of Port de Grave district for 1911.

Newfoundland Plantation Books Collection, 1804-1810
Photocopies of various plantation books of Newfoundland, including the returns for Bonavista, 1805-1806 and Conception Bay, 1804-1806; Register of the fishing rooms at Twillingate and places adjacent, 1806 onwards.

Index of Newfoundland Captains, 1820-1889.
This index was compiled from data contained in the transcripts of the Certificates of Vessel Registry for Newfoundland, 1820-1889. It is an alphabetical listing of all captains whose names were entered on the certificates, with the name of the vessel served on and the vessel's registry number.

Index of Surnames from the Ships and Seafarers of Atlantic Canada database, 1787-1936.
This index contains the surnames and company names taken from the Ships and Seafarers of Atlantic Canada database. This database is derived from two British record series, structured as three interactive databases that allow the user to search, sort and query the data on the shipping industry of Atlantic Canada.

The first database is compiled from the Certificates of Registry for 10 major ports of Atlantic Canada; the second is compiled from the crew agreements of vessels registered in four ports of Atlantic Canada; and the third database contains a one percent random sample of crew agreements from non-Canadian (British) vessels which was compiled for comparative purposes. For details on how to purchase this collection, visit our Publications page.

Index of Surnames from the Births, Deaths and Marriages in Newfoundland Newspapers, 1810-1890 database.
This index contains the surnames taken from the Births, Deaths and Marriages in Newfoundland Newspapers, 1810 - 1890 database. This database contains more than 40,000 entries for births, deaths and marriages transcribed from 43 Newfoundland newspapers published between 1810 and 1890. For details on how to purchase this database, visit our Publications page.

Lloyd's Captains' Registers, 1851-1948. 60 reels of microfilm.
Registers containing an alphabetical list of certified masters, giving place and date of birth, the port and date of examination, the names of the ships in which he has served, whether he was master or mate, subsequent to the examination. To search the registers we require the approximate dates of service or the date of birth. The minimum cost to search this collection is $50.00 (covers one hour of research).

Registrar General of Shipping and Seamen, Agreements and Account of Crew, 1863-1938, 1951-1976. 6,439 metres of textual material.
Agreements and account of crew of British Empire vessels, containing the names of officers and seamen; their date and place of birth; the date and place of joining and leaving the vessel; the previous vessel; wages, rank and reason for leaving the vessel; ports of call and a description of the vessel. There is no nominal index to this series, therefore it is necessary for a researcher to provide the name of the vessel and the approximate years of service in order to initiate research. The Maritime History Archive maintains an index of the crew agreements and accounts for 1863-1938 in its archives. These lists can be searched by Official Number. For information on researching crew agreements and official logbooks, or to place an order for copies of crew agreements from the Maritime History Archive, please go to the Researching Crew Agreements page. English Parish Records Collection, 1269-1930. 97 reels of microfilm
The English parish records collection consists of microfilm copies of records of many parishes in the South West of England, particularly the counties of Devon, Dorset, Somerset and Hampshire. The collection focuses on those areas which supplied crews for the Newfoundland fishery, and the places of origin of Newfoundland settlers. Devon parishes predominate. The collection is indexed by parish. For more information about this collection and a list of parishes included, click here.

Irish Parish Records Collection, 1671-1900. 41 reels of microfilm.
This collection consists of microfilm copies of many Roman Catholic parishes in the counties of Kerry, Kilkenny, Waterford, Wexford and Donegal, as well as many Church of Ireland parishes in counties Cork and Waterford. There are also vestry books for two parishes in County Clare: Castletown Arra and Killaloe. The main concentration is from 1750 to 1880. The collection is indexed by parish. For more information about this collection and a list of parishes included, click here.