Belated Recognition
For those Canadian and Newfoundland merchant seamen who had volunteered to sail with British companies, the war's end brought joy, but also the realization that while their bravery had earned them medals, it had not given them an entitlement to pensions and benefits. It later took Second World War veterans more than fifty years of lobbying to receive official recognition of their sacrifices.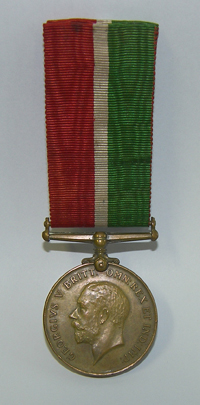 Post-war Canada had no measures which would be recognized today as social security. The rehabilitation of veterans, planned during the early years of the First World War, gained impetus with the Pension Act, passed in July 1919, which embodied the idea that "the state should accept complete responsibility for a member of the forces during his active service, whether or not any disability or death has been directly caused in the performance of duty."(Schull, 25) Unlike Royal Naval Reservists who received pension money from the Admiralty, merchant seamen were ineligible for benefits. (Hunter, 136) Not governed by military discipline and able to withdraw their services at any time, merchant mariners were regarded as civilians, not military.
They were, however, eligible for a number of military commendations. The Mercantile Marine Medal was awarded to those who were at sea for no less than six months between August 1914 and November 1918, and who served at sea on at least one voyage through a danger zone. All recipients of the Mercantile Marine Medal were automatically entitled to the British War Medal. For Canadian veterans, the British War Medal always accompanied the Victory Medal. It was awarded to all ranks of the fighting forces, to civilians under contract, and others employed with military hospitals. The Silver War Badge was awarded to merchant seamen who were no longer fit for sea service as a result of sickness contracted, or wounds received during the war, either at home or overseas.
To honor the sacrifice made by merchant seamen during the First World War, in 1923, King George V granted the title of "Merchant Navy" to the service. A memorial to merchant seaman of the First World War was unveiled in December 1928 by Queen Mary. It takes the form of a vaulted corridor inside which twelve bronze plaques are engraved with the 14,661 names of those men who perished while at sea. (Fayle, 322)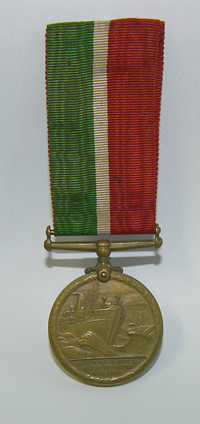 Heber Lodge, a Newfoundlander, was a recipient of the British Mercantile Medal. His wartime service can be partly established through the archive's records. Having sailed out of St. John's, he signed off from the schooner Eva C. (Official Number 125969, 1918) in Gibraltar in 1918 with Walter Scammel, a cook and fellow Newfoundlander. From there, he joined the Eskasoni (112672) as the 3rd Officer. Two years after the war's end, Lodge settled for a humbler and more peaceful berth as the master of the Marjorie McGlashen (134402), ferrying passengers to Fogo Island, a small harbor community 450 kilometers northwest of St. John's.
Although in Great Britain veteran seaman occupied an equal yet distinct status under various provisions of the War Pensions Scheme, it took years of lobbying by World War II veteran seamen to bring about official recognition of the sacrifices made by merchant seamen in both world wars. In 1996, the National Veteran's Association accepted the Merchant Navy Association's request for a service at Tower Hill, London that recognized merchant seafarers, the first of which was held in 1996.
In 1992, after a lengthy public dispute between veterans of the Second World War and the federal government, Canadian and Newfoundland merchant mariners were granted official status as veterans and made eligible to receive disability pensions, allowances and health-care benefits accorded to veterans of the three armed services. Included were those who had served on foreign supply vessels during the First World War. In a final act of recognition, Parliament declared Canada, too, would observe Merchant Navy Veterans' Day.