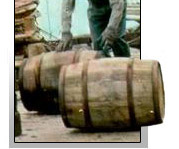 Ordering Copies of Crew Agreements (Crew Lists)

To place an order for copies of crew agreements from the Maritime History Archive's collection simply send the following information to mhares@mun.ca.*

Vessel Name
Official Number (if known)
Years to be copied. (Crew agreements are filed by the year in which the voyage terminated in a British port).
Indicate whether you want the entire agreement copied or just the particular pages where an individual's name appears.
Please include your name and full mailing address.
Once we receive your order, we will provide you with an estimate for the cost of the search and scans. Crew agreements and official logbooks can contain anywhere from 4 to 20 plus pages per voyage. Scanned images are sent by email. Each JPG image is scanned at 300 dpi.

Retrieval and processing fee

$40.00 (CAD) minimum fee. This fee provides retrieval for a maximum of two years of crew agreements for one vessel (or two vessels for one year). The charge for each additional vessel/year is $20.00.
Digitized copies of crew agreements
High resolution colour scans (JPGs)
$2.50 each - crew agreement pages 11" x 17" or smaller
$5.00 each - crew agreement pages larger than 11" x 17"
Only Visa, MasterCard or MasterCard Debit can be used to make payments. Please note that Visa Debit is not accepted at this time. Once you have been advised of the cost by the MHA staff, follow their email instructions to make your payment.
The crew agreements and logbooks for voyages terminating in the years 1857-1942 are indexed and can be searched here.
*Please ensure that your e-mail account has been set up to allow e-mails from unfamiliar e-mail addresses. We have had a number of clients, particularly those using Hotmail, who have either not received our e-mails or have had our e-mails go directly to their Spam/Junk mail folders. If you do not receive a response within 2 weeks, it is likely that this has occurred. Once you have ensured that the e-mail is not in your Spam/Junk mail folder, please resend your e-mail from another account or contact us by phone.
Updated June, 2021