Futley Ali Kala
Introduction: Lascars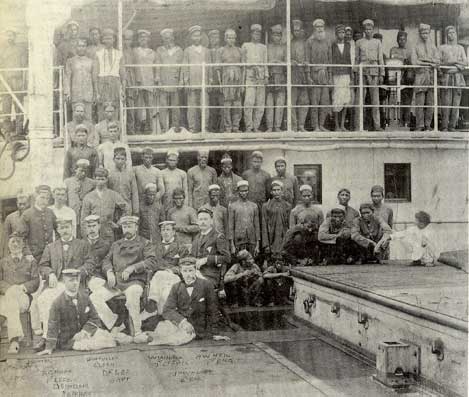 The term "Lascar" is not in use today, but as a period term it identified men who were engaged at ports in India under the special terms of a running Agreement. The Lascar Agreement replaced the standard foreign-going Agreement (Eng 1) for seafarers of Indian, African and Middle-Eastern origin. Its intention was that men on voyages between ports in the Indian Ocean and ports in the UK or near-continental Europe would return to Bombay (Mumbai) or Calcutta (Kolkata) or another Asian port where they could again be recruited as shipboard labour. The terms to which they agreed differentiated them from European seafarers, often working aboard the same vessels. Two photographs of crew of the Ballarat reproduced below show Lascar seamen and European petty officers respectively. These men had traversed the Indian Ocean en route to Australia in the 1890s. Their photographer is unknown. It was perhaps a passenger, a traveler between west and east, whose eye for the symmetry of composition emphasized the difference between the two sets of maritime subjects.
| | | |
| --- | --- | --- |
| | | |
A diet of rice, flour, dhall, ghee, curry stuffs, dried fish, vegetables, and a little meat deferred to Lascar cultural preferences and religious practices. These comestibles were cheaper for the shipowner to provide than the standard seafaring fare of "salt pig", dried peas and soft bread or hard tack (Mercantile Marine Committee [MMC], 1903, Report, Appendix N no. 5). Less space aboard was allotted to Lascar crew, though the most important saving on Lascars recruited to trans-oceanic vessels came from lower wages (MM Committee, 1903, Report, Appendix G no.4). The Indian Government's Merchant Shipping Act of 1880 authorized pay amounting to half that for British seafarers. The rate was justified by the lower remuneration to workers in India.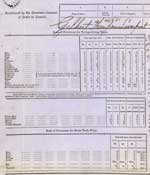 Native "bosses" known as serangs and tindals, took the place of bo'sns (boatswains) in organizing Lascar teams for shipboard work and in-port labour. Lascars continued to work after their vessels arrived in port under the provisions of the Asiatic Agreement (P&O Co. Supplementary Articles, Rome ON 81820, 1900). European petty officers were assigned different tasks than supervising crew and their work was mostly concerned with passengers or with port authorities and ship's agents. Officers had even less to do with Lascars. Their customary authority was buttressed by the advantages they drew from being white men aboard the ships of an empire whose non-white subjects had rights but of a kind that were ambiguous and debated (Tabili 1994, 46-47).
Rome
ON 81820
2058 Tons
1882
List C: Lascar Crew
No. of Positions
Eng. 1: European Crew
No. of Positions
Serang (Boatswain)
1
Mate
1
Tindal (Boatswain's Mate)
2
2nd Mate
1
Lascar (Able-Bodied Seaman
42
3rd Mate
1
Bhandarry (Forecastle Cook)
1
4th Mate
1
Topas (Ordinary Seaman)
3
5th Mate
1
Bosun
3
Surgeon
1
Paniwalla (Greaser)
3
Carpenter
1
Storekeeper
1
Bosun
1
Lampman
1
Able Seaman
8
Fireman
28
Joiner
1
Boy
21
Engineer
7
Coal Trimmer
21
Boilermaker
1
Coal Trimmer Serang (Donkeyman)
1
Winchmen
1
Cook
1
Purser
1
Curry Cook
1
Chief Steward
1
Scullion
1
Barman
1
Knifeman
1
Storekeeper
1
Iceman
1
Chief Cook
1
Butcher's Mate
1
Baker
1
Boy
5
Butcher
1
Pantryman
1
Forelabour Steward
1
Head Saloon Waiter
1
2nd Waiter
1
Stewardess
2
General Servant
15
Boy
2
2nd Cook
1
Baker's Mate
1
General Servant
1
Total:
139
Total:
59
Among the companies making extensive use of Lascar labour were the Peninsular and Oriental [P&O] operating from London, and the British India Steam Navigation [BISN], that made Glasgow its base. The separate Agreement for Indian seafarers predated the formation of these enterprises by many years. Its origins are with the East India Company, which operated under a charter granted by the state until its monopoly on Indian trade was revoked in the first half of the nineteenth century (Ricardo 1849, 228). The employment of Lascars accelerated once the Suez Canal (1869) shortened the voyage to the East and gave merchants to reconsider the merits of shipping by steam or sail since steamships alone could use the canal (Barnes 1983, 44). P&O led in the renewal of its fleet. It commissioned ships with compound steam engines and screw propellers and put more Lascars into the stokeholds of these vessels.
The companies involved provided justification for the increased use of Lascars. They argued that Europeans were not suited to work in hot climates: the temperatures in the stokeholds of a steam vessel could exceed 100°F (38°C). In addition, they parried criticism that cheapness was the reason for the use of Asian labour. Businesses and their representatives said the cheaper costs of the Lascar seafarer to his employer were evened out because two Lascars were needed in place of every European. Our research indeed shows higher manning levels on vessels with Lascar crews, though it is difficult to make viable comparisons, and we hesitate to confirm this figure.
| | | |
| --- | --- | --- |
| | | |
In the middle of the nineteenth century the laws were repealed that had been passed in previous centuries with the intention that crews on British vessels should be constituted by a majority of British or Colonial born seafarers. The status of Lascars was left ambiguous under both British and Colonial laws, though it might truer to say that as Lascar numbers increased some commentators began to assert that Lascars had never been British seamen, and thus they could not benefit from the protection that British mercantile marine law routinely provided its subjects (Merchant Shipping Act 1850, 12th & 13th Vic c. 29; Tabili 1994, 44). In 1903 a polemicist, Captain W.H. Hood, took an optimistically xenophobic view of the matter: "The conditions of life in our service were much better than any other service in the world. As a consequence, foreigners were always glad to join our ships" (Hood 1903, 5).
Imperialists in both conservative and liberal political camps were on dicey ground when perceptions of developmental differences between east and west left the Lascar looking only half a man as compared with a European. What might happen to shipping services to the East should military service take European officers, members of the Royal Naval Reserves, away from their regular duties? Hood was one of the authors who, after the Boer war, went into print to defend the fortitude and moral courage of Lascars. Another factor played into the hands of these new defenders of the Lascar. Over the previous decade strikes at British ports showed the strengthening of support for a neophyte trade union (Marsh 1989, 49-50). Hood characterized the new mood of seafarer militancy in a telling way: he called it "The Blight of Insubordination". The National Seamen's and Firemen's Union could not overlook the existence of British-registered vessels putting in to British ports that were manned by seafarers who worked for lower pay and in inferior conditions.