Frances ("Fanny") Cluett (1883 – 1969), VAD, Belleoram, Fortune Bay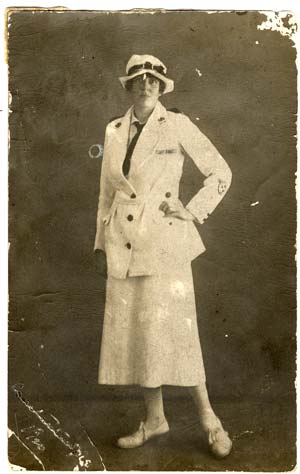 Like many women of her generation, Frances Cluett worked as a school teacher in the small fishing town where she grew up. However, on October 2nd, 1916, she received a telegram that would change the course of her life. The message, which came from St. John's, was short:
"Expect you this week."
The notice confirmed the beginning of Fanny's voyage to Europe and her association with the Voluntary Aid Detachment (VAD), a group of volunteer nurses founded in 1909 by members of British Red Cross and St. John's Ambulance. The "VADs" became an invaluable resource during WWI, providing basic medical services in the understaffed hospitals and convalescence homes in Europe.
As well as nursing, their principal role, a VAD might also work as an ambulance driver, cook or kitchen maid, or as a clerk or fundraiser. There were approximately 38 women from Newfoundland who served as VADs during the war. Fanny Cluett, who was 33 when she joined the detachment, arrived in the later years of the war when the demand for nurses, trained and volunteer, was particularly high.
Perhaps this explains why Fanny moved so quickly through the ranks of the VAD, or perhaps it was her work ethic, focus and education that caught the attention of her superiors. Shortly after completing her training in England, Fanny was sent to work at the military hospital in Rouen, France.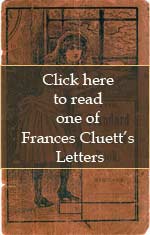 The remarkable attention to detail and the descriptive language that appears throughout the stream of letters that Fanny Cluett sent home during the war provide great insight to the daily workings of life as a VAD nurse. She recreates her surroundings–people and landscape–in these letters, giving equal consideration in her musings to both the ravages of war and the sophistication of French culture. She writes of war and suffering:
"Sometimes I relieve on the Surgical Lines: It is there the horrible sights are; you would not believe me mother if I tell you about what I have seen and gone through."
However, her letters also illustrate how life continues despite suffering:
"Mother I have never seen as many flowers in all my life as I have seen since I came to Rouen. All the hospital tents have them at their front entrances; oh! They are beautiful. On my way to the ward; I pass beds and beds of red and pink geraniums, assorted asters, assorted daisies, beds edged with pansies, and flowers that do not grow in Belleoram."
Fanny stayed in Rouen until 1918 when she was transferred to Constantinople (Istanbul). She returned to Newfoundland in 1920 and resumed her post as elementary school teacher back in Belleoram. She leaves behind a legacy, both in the service she provided overseas and in the detailed letters that she wrote home.