Louise Belbin (1922-1999), Mat Maker, Grand Bank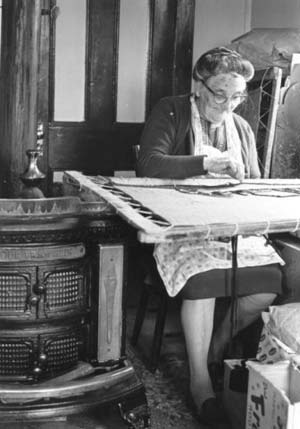 Louise Belbin is an iconic figure in the history of mat-hooking in Newfoundland. Originally from Jacques Fontaine, she married and moved to Grand Bank in 1922. Her husband built her a mat frame at the onset of her marriage and then promptly went out to sea, leaving her alone with her mat hooking for a good portion of the work year. In an interview for the book 'Twas a Way of Life, Belbin recounts this period of her life:
"I was twenty–three when I came to Grand Bank…My husband was at sea and I only saw him for a month and a half that year… The first thing I asked my husband when I was married was to make a mat frame as I had to do something in the long winter evenings"
Belbin's most recognizable mats feature animal designs—two cats sitting side by side; two ducks walking in line; a lone moose—although she was also well known for her "poked" style mats that were loose-ended and shaggy rather than "hooked."
In 1944, Belbin opened a confectionary store in Grand Bank where she often hooked mats while sitting behind the counter, continuing her work at home in the evenings during the many months that her husband was away at sea.
Belbin's matting work was celebrated in a 1978 solo exhibit at the Memorial University Art Gallery. In the curator's statement Belbin was described as a dedicated and constant worker, even more so after the death of her husband: "After he died, she spent even more time matting, and she now mats every spare moment in her shop when she isn't waiting on friends. She often completes one mat a week, commenting that "work is company."
Louise Belbin is still recognized as one of Newfoundland's most prolific mat-makers.
Watch a short documentary on Louise Belbin.