Edith S. Watson (1861-1943), Photographer, Connecticut, US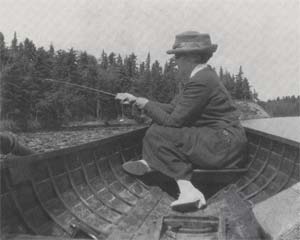 Photographer Edith S. Watson (1861–1943) was born in Connecticut, but spent the bulk of her career traversing and photographing North America. Her travels and images spanned the length of the eastern seaboard, circled the islands of the Caribbean and crossed Mexico and the Yucatan. However she often focused her lens on rural Canada, and in particular, Newfoundland and Labrador.
Edith set out alone on her first visit to Newfoundland but was joined by her partner in life and work, writer Victoria Hayward, in subsequent trips to the island and Labrador.
Perhaps influenced by her early career as a painter, Edith insisted on including photo credits with her work before it was common practice. This, and her willingness to travel and photograph beyond what other freelancers might have deemed "comfortable" established Edith as an important career woman and her images were published in the New York Times, Toronto Star, Maclean's and Saturday Night among many other magazines and newspapers. In 1922 Edith and Victoria fused their talents to publish, Romantic Canada, a pictorial travelogue that spanned the country from coast to coast.
Edith sold at least two photographs to the Newfoundland Quarterly both of which appeared in the March 1911 issue of the magazine. In Petrie's Point, Bay of Islands, the viewer peers across still water at a line of houses on a stretch of narrow land. Bonne Bay depicts an equally pastoral scene, again viewed from a few steps back, as if the viewer is approaching the white cottage from a nearby walking trail.
Although her landscape photography is a testament to her keen sense of composition, it was in her portraiture that Edith's talents really shone. Her subjects were very often women and she captured her female models in moments of reality that might otherwise have been overlooked. The portraits that she chooses to use in Romantic Canada are all of women. In one mysterious shot, she photographed a lone woman in a long, dark dress with a white kerchief tied around her head. She stands, as if posed; hoeing in a small potato patch perched above the community of Path End.
Edith Watson was a true documentarian who captured a sense of time and place in Newfoundland and Labrador through the eyes and lens of the outside world.