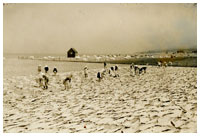 Groups of women in long dark dresses scattered amidst row after row of drying salt cod was a familiar site in coastal Newfoundland and Labrador. These women made up the "shore crew", a vital role in the family and mercantile fishery of the 19th and 20th centuries.
The women we see in these black and white photographs, bent slightly as they spread the fish across the flake, are "making fish". To be cured, the cod is splayed, salted and laid in the sun to dry through several stages of washing. At various intervals during the drying process, the fish are stacked in a circular pattern the size of a wagon wheel to form a 'faggot'.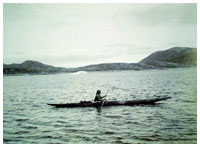 The role required a lot of preparation and organization, as the long hours spent on the flakes during fishing season were carried out in combination with a woman's family and community duties. It also required constant vigilance and planning. Another familiar sight was two women carrying stacked, salted fish into storage, a temporary move when the weather threatened to change.
"A cloud, during the day, sees the ever-watchful women coming on the run from all quarters to get the fish in before it rains. Codfish must not get wet," writes the early 20th century travel journalist Victoria Hayward in the book Romantic Canada (1922), after a visit to Newfoundland.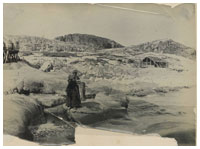 Some women cast their own lines-like Mrs. Pomiuk of Labrador, who glides across choppy water presumably fishing from the side of her kayak, or Cecilia Williams casting for caplin at Cape Harrison in 1893.
The images of women working in various aspects of the fishery are taken from a wide geographic range, from St. John's to Grand Bank to Turnavik, Labrador, providing insight on the important role that women played in the fishing industry across the province.