Elizabeth Austin (1913-2001), Midwife, Middle Arm, Green Bay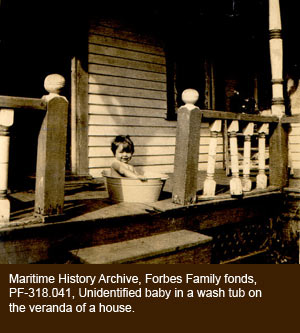 In this 1984 interview with her nephew Morris, midwife Elizabeth Austin is sharp, quick-witted and warm, often punctuating her sentences with a mischievous laugh. She recounts the details of her thirty-year midwifery career with precision, clarity, and the elegance of a well practiced story-teller.
Elizabeth was the eldest of seven children, born in 1913 to Obediah and Agnes Robinson of Shoe Cove. In her early teens she moved to St. John's to work as a nurse's aid, but returned to Green Bay, moving to Middle Arm where she married Jack Dick in 1932. Together the couple had six children.
Fifteen years after their marriage, Jack died leaving Elizabeth a widow with six children to care for. Showing a great deal of resilience, she returned to St. John's to undertake a six-week midwifery training course at Grace Hospital, although she'd attended to her first birth years before.
"So, one stormy night, April 9, 1944, I was called to a home to stay with the patient while the husband went to get a midwife. Finally, hours later, he returned with the midwife. But the baby was here. A big boy, ten pounds, all by myself."
In small communities like Middle Arm, widowed women often took on the role of midwife. Having had children themselves, they were able to understand the physicality of childbirth while surviving the death of a spouse marked them as simultaneously strong and sympathetic.
Pre-confederate Newfoundland has a great history of midwifery, particularly in the outport communities where there was rarely a resident doctor. The midwife was an important and greatly respected figure, often extending her medical services to that of a general health practitioner and in some cases, like that of Elizabeth Austin, undertaker.
Elizabeth travelled to her patients on foot, snowshoes, horse, boat, dog team, and sleigh and in the later years snowmobile. Like most midwives, she was paid in kind—often food—but after being officially trained she charged $10 per birth, upping the cost to $12 after several years of work. However, if a family couldn't pay, she wouldn't refuse them.
Over three decades Elizabeth Austin delivered 302 babies in Middle Arm and the surrounding area.
Listen to Elizabeth Austin tell her own story.


Back to Women in the Family