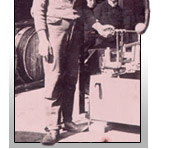 Atlantic Canada Shipping Project
The Atlantic Canada Shipping Project was a major research project undertaken by the Maritime History Group over a six year period from 1976-1982. Its objectives were to study, document and explain the rise and fall of Atlantic Canadian shipping in the nineteenth and twentieth centuries, through the use of the official documents of the British Registrar General of Shipping and Seamen. The ports selected for study were St. John's, Newfoundland, (which was the sole port of registry for the island); Charlottetown, Prince Edward Island (also the sole port for the province); Halifax, Sydney, Yarmouth, Windsor and Pictou, Nova Scotia; Saint John, Richibucto and Miramichi, New Brunswick.
The project compiled data from the Certificates of Registry for the above ports, sample crew agreements from the ports of Windsor, Halifax, Saint John and Yarmouth, and a comparative sample from non-Canadian ports. The data from the project has been reformatted as three interactive databases and is published on a CD, Ships and Seafarers of Atlantic Canada that allows the user to search, sort and query the data.
The ACSP also published six volumes of proceedings and numerous research papers. A final monograph entitled Maritime capital: the shipping industry in Atlantic Canada, 1820-1914 by Eric W. Sager with Gerald Panting, summarized the projects findings.