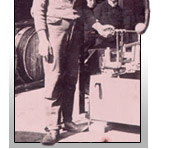 Shipping lists
Under the heading of shipping lists are included the various lists of vessels recorded by the Customs officers in ports in Great Britain and the plantations, which were submitted either to the Registrar General of Shipping, or to the Colonial Office, Foreign Office of Home Office. The lists are either returns of vessels entering and clearing port, commonly known as naval office lists, or the annual lists of vessels registered at the port.

Great Britain. Registrar General of Shipping and Seamen
Annual Lists of Ships Registered (BT 162), 1786-1955. 31 reels of microfilm.
Annual lists of ships registered at each colonial port submitted to the RGSS, distinguishing British and foreign built vessels and noting those that have been lost, sold or taken as prizes, etc. and those which have not entered or cleared port for a period of one year. Indexed by port.

Great Britain. Colonial Office.
Shipping returns, 1678-1820. 25 reels of microfilm.
Bahamas (CO 27) 1726-1815; Barbados (CO 33) 1678-1818; Bermuda (CO 41) 1715-1820; Dominica (CO 76) 1764-1819; Grenada (CO 106) 1763-1816; Jamaica (CO 142) 1765-1818; Leeward Islands (CO 157) 1683-1720; Nevis (CO 187) 1704-1729; St. Christopher (CO 243) 1763-1787; St. Vincent (CO 265) 1763-1812; Tobago (CO 290) 1766-1815.
Returns of shipping giving names of vessels entering inwards and clearing outwards. Includes master's name, rig, tonnage, when and where built and registered, owners' names, where from and where bound. Listed chronologically.

Great Britain. Colonial Office
Naval Office Shipping Lists for Massachusetts, 1686-1815. 2 reels of microfilm.
List of vessels clearing inwards and outwards, with master's name, rig and tonnage of the vessel, the number of men and guns, owners' names, where the vessel was from, where it was bound and the contents of its lading.

Great Britain. Home Office
Naval Office Lists, 1791-1796. 1 reel of microfilm.
Lists of vessels entering and clearing the ports of the West Indies and British North America. Arranged by port, chronologically.

Great Britain. Foreign Office
Bahia Shipping, 1866-1872 and 1883-1915. 3 reels of microfilm.
Registers of shipping at Bahia in the periods Jan. 1866-Oct. 1872 and 1883-1915. Register is numbered by the dates of vessels' entry into port. Details given include date of arrival, date of entry, class, name of vessel, port of registry, official number, master, guns, crew, tonnage, owners, consignees, date of clearance, cargo, whither bound and remarks.