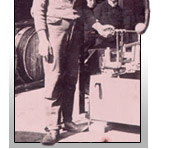 Captains
Lloyd's of London
Lloyd's Captains' Registers, 1851-1948. 60 reels of microfilm.
Registers containing an alphabetical list of certified masters giving place and date of birth, the port and date of examination, the names of the ships in which he has served, whether he was master or mate, subsequent to the examination. To search the registers we require the approximate dates of service or the date of birth. The cost to search this collection is $40.00 per hour (one hour minimum charge). The search may take up to two hours.
Great Britain. Registrar General of Shipping and Seamen
Certificates of Competency, masters and mates, Colonial (BT 128) 1871-1921. 1 reel of microfilm.
Microfilm copies of the certificates of competency for masters and mates, who obtained their certificates at Canadian ports. The certificates are arranged by province. Newfoundland certificates only are indexed by the name of the master.
Index of Newfoundland Captains, 1820-1889
This index was compiled from data contained in the transcripts of the Certificates of Vessel Registry for Newfoundland, 1820-1889. It is an alphabetical listing of all captains whose names were entered on the certificates, with the name of the vessel served on and the date of its registry.