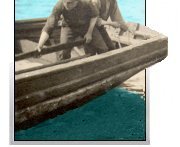 - The Move
A video on the resettlement of the Rumboldt family
in 1968.



---




---








Cowards Island
Cowards Island is one of four rocky islands in central Bonavista Bay which together are called the Flat Islands. The islands, named Flat (Samson) Island, Berry Head, North Island and Cowards Island, were among the earliest reported settled areas in Bonavista Bay with the first record of residence mentioned in the "Register of Fishing Rooms in Bonavista Bay," for 1806.

According to G.W. Roberts (1973) the first settlers of Cowards Island were named Puddister. Later settlers included the Ralph, Pike, Saunders, Kelligrew, Durdle and Morgan families.

The development of the islands rested on a shift from local fishing to the Labrador fishery in the 1850s. In the 19th century the area's production of Labrador cod averaged between 152,400 and 203,200 kg (3,000 and 4,000 quintals) per year using eight or nine vessels. By the 1950s, however, with the decline of the lucrative Labrador fishery, more than half the workforce were employed in carpentry, construction and woods work in shoreline communities of Bonavista Bay and in central Newfoundland. By 1956 the school on Cowards Island was closed and towed to Glovertown, and in 1957 the majority of the population prepared to move.

The last move out of the four islands, involving 119 families, was undertaken with government assistance. About twenty per cent moved to St. John's. The remainder scattered to Glovertown, Eastport, St. Chad's, Burnside and other settlements such as Dark Cove, Hare Bay, Dock Cove and St. Brendan's. Many houses were floated, or disassembled and rafted to their new locations where, with their older style, made significant contributions to local architecture.

From the Encyclopedia of Newfoundland and Labrador